31 Recognizable Swae Lee Quotes To Accept Reality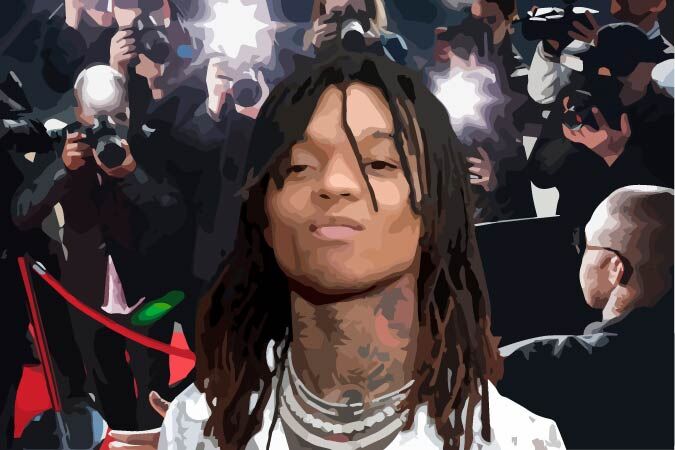 Swae Lee is one of the most recognisable rappers on social media with thousands of fans globally.
Raised by a single mother, and himself dealing with homelessness, he today has built an incredible career that blends rapping with singing, much to the praise of his critics.
He's a man who has executed upon his dreams and has accepted his own reality. He has kept himself out of trouble and controversy, so we hope you enjoy these quotes by Swae Lee collected from a variety of sources.
1. If you're taking care of yourself, then what can somebody else tell you?

Swae lee
2. A 'no flex zone' is an area where a lot of people can be themselves, live their life, get their money.

Swae Lee
3. You can follow your dreams, your dreams can catch you. You can really get that something you want. It's possible, you can overcome everything.

Swae Lee
4. A lot of people, they want you to be a one-hit wonder.

Swae Lee
5. A person could be smiling and going through hell in their heads make sure you uplift.

Swae Lee
6. I never knew what fame really was until I got it.

Swae Lee
7. I'm living a pretty good life. I wouldn't want to make songs that bring people down.

Swae Lee
8. The good and the bad , it's all a balance.

Swae Lee
9. I feel like I've been out of high school forever. So I just read to keep my mind going.

Swae Lee
10. Show them positive things you can do if you put your mind to it, put your grind to it and focus.

Swae Lee
11. It's such a cycle. You'll see a rapper drop a song, and next thing you know, he's gone.

Swae Lee
12. To me, it's just another way to just have fun with the kids and bring two worlds together.

Swae Lee
13. I want it now I don't want it later.

Swae Lee
14. Man, I listened Nas and B.I.G growing up. I listened to both of them when I was younger for sure.

Swae Lee
15. I'll hear a beat and think, 'How can I make this a banger?' I'll write the lyrics on my phone or on a piece of paper, and either way, it's going to be a slapper.

Swae Lee
16. I feel like I've been out of high school forever. So I just read to keep my mind going.

Swae Lee
17. I like Charizard, but you know what I like more than Pokémon? I like Digimon. It's a different Pokémon, an off brand. Digimon is lit.

Swae Lee
18. I'm probably going to forever be weird.

Swae Lee
19. You don't get to condemn people just because they think differently than you. That's not equality. That's not justice and that's not hip-hop, just being honest.

Swae Lee
20. I can't go vegan, that s**t's too hard. That vegan s**t different.

Swae Lee
21. I want to have a street named 'Swae Lee.' It doesn't need to be a busy street.

Swae Lee
22. The Black Lives Matter movement to me isn't saying we're the only race that matters. It's don't forget that we matter, too. Black Lives Matter, too. We're only saying this because of the years and years and years, decades and generations of mistreatment.

Swae Lee
23. I don't necessarily think about writing for other people because I just start loving the songs myself.

Swae Lee
24. Dam we so young got so much ahead of us I be sitting back tripping sometimes.

Swae Lee
25. I'm probably going to forever be weird.

Swae Lee
26. If you're taking care of yourself, then what can somebody else tell you?

Swae Lee
27. We all stood up on behalf of gays and lesbians and people in the gay community because we thought it was some bullshit for y'all to have to be bullied.

Swae Lee
28. I miss performing so much. You never realize how big that was until you can't do it anymore. Now that we can't do it, I really noticed how entertaining and fun it was. Definitely missing that.

Swae Lee
29. My music makes people happy because I'm transferring my happy energy into it. A lot of my songs are meant to focus on the happy things in life because everyday people go through something negative, and so in my music I don't need to remind people of that.

Swae Lee
30. I write a lot of rhymes, but I don't really end up using them a lot of times, and I end up just freestyling. I like to write music, though, more than I like to freestyle, to be honest.

Swae Lee
31. Came a long way still got a long way to go.

Swae Lee