67 The Weeknd Quotes To Achieve Remarkable Success While Young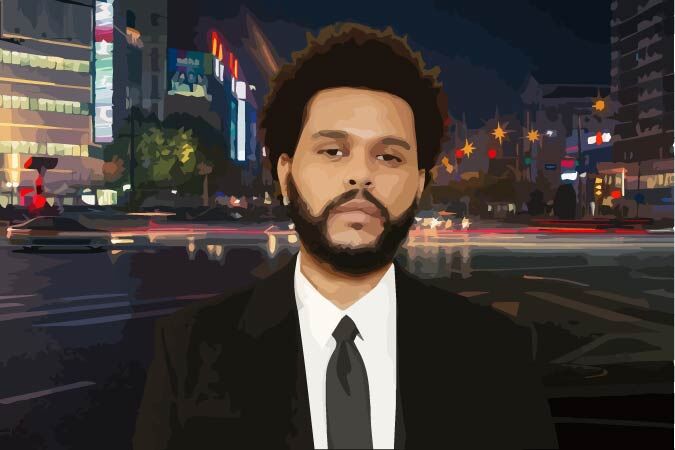 We love seeing stories of remarkable success in a short period of time. It appeals to our sense that success is merely right around the corner. What's better is someone who came from near-nothing.
The Weeknd represents exactly that. As the son of Ethiopian parents, he struggled in his teenage years with drug abuse and shoplifting only to later discovering the power of his voice.
After launching a song on YouTube, he quickly garnered attention. He was just being himself and creating his own songs which his young fans loved. Needless to say, he became a multi-millionaire soon after in his early 20's.
So if you're after some remarkable quotes by The Weeknd, then you're in the right spot! We have collected these from multiple sources and are currently updated.
1. Be loyal to your own piece of mind.

The Weeknd
2. Can't believe we're here. feels like yesterday we were there… but now… we're here. not there.

The Weeknd
3. I enjoy being a workaholic, I think, or I'm just addicted to it. Even when I'm not working I'm always somehow still working. It distracts from the loneliness, I guess.

The Weeknd
4. I didn't have a father figure in the house.

The Weeknd
5. Too many people spend money they haven't earned to buy things they don't want to impress people they don't like.

The Weeknd
6. Once you learn to hit, teach yourself to never miss again.

The Weeknd
7. My purpose is to make exciting music, and I feel like I'll be doing that for the rest of my life, so there's no pressure.

The Weeknd
8. Baby I'm a pro at letting go, I love it when they come and go.

The Weeknd
9. The last thing you want is to not be recognized for all of the hard work you put in.

The Weeknd
10. Look at all that money. The money is the motive.

The Weeknd
11. I like to create characters based on different people I've met, and relationships. I like to tell stories loosely based on real-life events.

The Weeknd
12. Happiness exists when you don't know a thing.

The Weeknd
13. Nothing is stopping me from doing what I love to do.

The Weeknd
14. I just kept touring and touring until it became second nature to go on stage, perform, and sing.

The Weeknd
15. When you're traveling constantly, every day you become inspired, and it shows in my work, sonically, lyrically, visually.

The Weeknd
16. You're gonna hate him, then you'll want me, then you'll miss him, then you'll hate me.

The Weeknd
17. In the beginning, I was very insecure. I hated how I looked in pictures.

The Weeknd
18. I love villains – they're the best characters in movies, right? The Joker is my favorite villain of all time: You don't know his past, you just know what his plans are.

The Weeknd
19. I don't like to leave my house too much. It's a gift and a curse but it helps me give undivided attention to my work.

The Weeknd
20. For a dreamer, nights the only time of day.

The Weeknd
21. We'll find our love in the sky.

The Weeknd
22. Good girls go to heaven, bad girls go everywhere.

The Weeknd
23. Don't show the world how alone you've become.

The Weeknd
24. I'm always getting high cuz my confidence low.

The Weeknd
25. You aren't normal if you sing to people. You aren't a normal person. It's nerve-racking.

The Weeknd
26. I want to be remembered as iconic and different.

The Weeknd
27. I chose the life, then I realized she might have been the one, I let her go for a little fun.

The Weeknd
28. Heaven only lets a few in. It's too late for me to choose it.

The Weeknd
29. Nothing feels better than going on stage and everybody is singing every word – and actually wanting to see you.

The Weeknd
30. You don't have to waste your energy.

The Weeknd
31. I don't care about you, why you worried about me?

The Weeknd
32. Me not finishing school – in my head, I still have this insecurity when I'm talking to someone educated.

The Weeknd
33. I was very camera shy. People like hot girls, so I put my music to hot girls and it just became a trend. The whole 'enigmatic artist' thing, I just ran with it. No one could find pictures of me.

The Weeknd
34. Everything I said I'd do I did, I'm good.

The Weeknd
35. So you're somebody now, but what's somebody in a nobody town?

The Weeknd
36. Don't make me make you fall in love.

The Weeknd
37. He's what you want. I'm what you need.

The Weeknd
38. Environment is very important to me. Sometimes I have to perform during the day for festivals, and my music does not work in the daytime. It is nighttime music.

The Weeknd
39. I'm the drug in your veins, just fight through the pain.

The Weeknd
40. I ain't scared of the fall. I've felt the ground before.

The Weeknd
41. I went from starin' at the same four walls for 21 years. To seein' the whole world in just twelve months.

The Weeknd
42. The effect of music on fashion has been immense, especially hip-hop and urban music.

The Weeknd
43. I'm so used to being used. So I love when you call unexpected, Cause I hate when the moment is expected.

The Weeknd
44. I wish I could make music about politics. I feel like it's such an art and a talent that I admire tremendously, but when I step into the studio, I step out of the real world, and it's therapeutic.

The Weeknd
45. When I'm faded I forget, I forget what you mean to me. I hope you know what you mean to me.

The Weeknd
46. I feel like I spent the last 10 years creating a sound and most of my career, I've either been running away from it or duplicating it.

The Weeknd
47. It's always been in me. I just had to be confident enough to let it out.

The Weeknd
48. I usually don't like to 'spoon feed' my audience, because I grew up idolizing story tellers who tell stories using symbolism, so it was in my nature to do the same.

The Weeknd
49. Music is like film to me.

The Weeknd
50. They say they want heaven; They say they want god. I say I have heaven, I say I am god.

The Weeknd
51. I just want to keep pushing the envelope without it feeling forced.

The Weeknd
52. I'm a prisoner to my addiction I'm addicted to a life that's so empty and so cold I'm a prisoner to my decisions.

The Weeknd
53. When I was making the early stuff, I never expected it to be so big. I was in my own kind of bubble. I never wanted to tour; I just wanted to create music and make a diary I could put out into the world. And sometimes, I became the characters.

The Weeknd
54. I never put a face to my music, which actually made the music that much more mysterious.

The Weeknd
55. Push it to the limit, push it through the pain.

The Weeknd
56. Staying in a hopeless and miserable situation doesn't make you loyal, it just makes you miserable.

The Weeknd
57. I'm sorry I was distracted by my lack of giving a shit.

The Weeknd
58. Well here comes the sun, You're in my arms. my denial keeps me on the edge of the chance that you'll stay through the night.

The Weeknd
59. The older I got, I was exposed to more music, and my voice became a chameleon going into different characters with each album. By following my own path and breaking industry norms, it seems to be influencing others.

The Weeknd
60. So baby don't go home, I don't wanna spend tonight alone.

The Weeknd
61. The only girls that we f*ck with seem to have 20 different pills in 'em.

The Weeknd
62. The music I make on this album is definitely matured. It's a bit of a different state of mind even though it's the same person. You grow and you grow and you don't know what the next album is going to be about. You never know what I'm going to say.

The Weeknd
63. I'm all about evolution. I'm the first person to judge myself.

The Weeknd
64. Kanye needed to be on this album, because I feel like I'm going through what he's been going through – reinventing himself and pushing the boundaries. And he looks at himself as pop. He says, "I'm a pop artist. You can't put me in one category.

The Weeknd
65. When I was born, that was the music my mother was listening to. Michael Jackson is a third parent to me.

The Weeknd
66. Once you've changed who you are or who you've portrayed in your music, the fans, they'll catch it… Once I feel like the world knows me for anything else but my music, then I feel like I failed.

The Weeknd
67. Say you're mine, I'm yours for the night.

The Weeknd